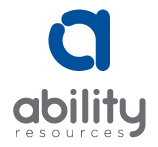 Mission: Ability Resources' mission is to assist people with disabilities in attaining and maintaining their personal independence through advocacy, education and service. One way this can be achieved is in the creation of an environment in which people with disabilities can exercise their rights to control and direct their own lives.
Ability Resources is a non-residential Center for Independent Living dedicated to maximizing the independence of individuals with disabilities.
History: Ability Resources was incorporated in 1976 under the name of Tulsa Independent Living Center. Ability Resources is a non-residential, community-based, consumer-controlled center for independent living. Actual operations began in 1982. In August 1986, the agency changed its name to Ability Resources to more accurately reflect the expanded services and structure of the not-for-profit 501 (c)(3) organization.